Hawaii Tax Online Changes
As of August 14, 2017, Hawaii Tax Online offers an enhanced online experience based on your feedback and ongoing efforts to phase in technological improvements.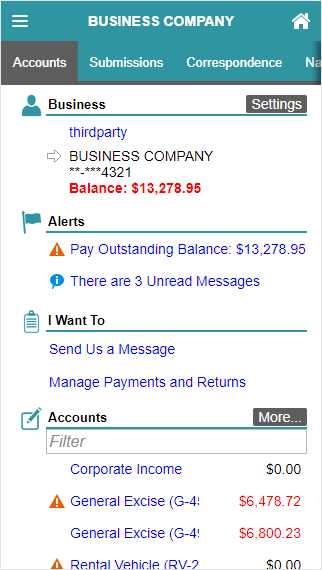 New Tax Account Integration
Increased Transparency — Hawaii Tax Online now supports Corporate Income, Franchise, Public Service Company, and Withholding tax types. Managing your business tax accounts and monitoring the status of balances, filings, payments, and official correspondence is easier than ever before.
Expanded e-Filing — Hawaii Tax Online supports additional tax forms, allowing you to enjoy the speed and reliability of e-filing for more return and payment types. For details, see the State e-File page.
Commercial Software Support — Internal technology upgrades will allow us to accept Corporate Income returns through the IRS Modernized e-File Program. While Hawaii Tax Online will not allow Corporate Income e-filing, you will be able to e-file federal and state returns together using approved tax preparation products. We expect vendors to support this by early 2018.
Improved Navigation
Mobile Friendly — Hawaii Tax Online automatically adjusts to provide the best experience possible on any device. Manage your tax accounts, make payments, and communicate with the Department of Taxation on the go.
Intuitive Interactions — Updates to context sensitive prompts and links to enriched help resources make mastering Hawaii Tax Online easy. A new homepage layout guides you to the Hawaii Tax Online functions you need. Quick file and pay options on the homepage allow users to easily e-file key returns and pay taxes without creating a web logon (username).

Prioritized Views — Streamlined tabs and summaries allow you to monitor your tax accounts at a glance. We optimized Hawaii Tax Online to draw your attention to updates you may have missed. As you navigate down to specific tax accounts and periods, Hawaii Tax Online automatically filter alerts and summaries to highlight relevant information.

New period summaries allow you to clearly see all financial and filing activity by period. A new Manage Payments and Returns screen provides powerful sorting and filtering features to help you create a customized view of information combined from many tax accounts.


Users with access to multiple accounts will see tax accounts conveniently grouped by customer.

Greater Access Control
Convenient Settings — A new Settings button available at the taxpayer, tax account, and period levels allows easy access to security controls and stored payment channels.
Flexible Security — New security settings help you protect your account and control what any third-party logons (accountants, attorneys, etc.) can view and change. Hawaii Tax Online presents detailed information about your account to help you ensure that all activity is authorized.
See also: